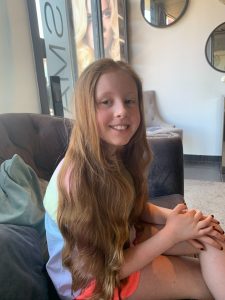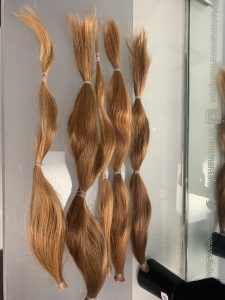 Its been 2 years since Megan in J3 got her haircut, and it wasn't because she was trapped in a tower like Rapunzel, it wasn't even because of Covid closing the hairdressers. Megan has been growing her hair with the express intention of using it to help others. When asked why she was growing her hair, Megan's reply was simple: "My friend and a lovely teacher from my school had cancer and lost their hair. They both had wigs whilst their own hair wasn't growing. By growing my hair very long, I can donate it to be made into wigs for more cancer patients like them."
During half term Megan and went to visit Hensmans Hair Salon in Northampton for her long awaited haircut. The wonderful team there gave Megan the star treatment and a fabulous new hair style too. Megan's hair will go to the Little Princess Trust who provide free, real hair wigs to children with cancer, to help restore their confidence and identity. The Little Princess Trust exists entirely on donations and so Megan (with the help of mum) set up a Just Giving page to help raise money for the charity. The original target of £150 didn't take long to reach and surpass.
In the end, Megan not only donated her hair (of which there was a lot) but she also managed to raise a whopping £873 for the charity. Well done Megan, we're all really proud of your thoughtfulness and your donations will be able to help more cancer patients in the future.
Oh and we love the new haircut!